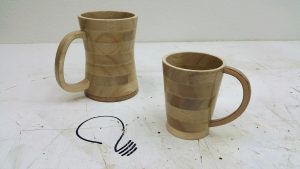 ← Click on the image for free patterns.
Hi everyone! This week I'm using my scroll saw to make another wood mug, this time with slightly different shape. And yes, I made a mistake…twice…
…I glued the bottom piece a bit too early (which makes sanding the inside of the rings quite a challenge) and than I sanded the outside of the mug without gluing the bottom piece back (ended up with the bottom piece being too big 🙂 luckily for me all I had to do was flip the bottom part over. It's not exactly the way I intended but in my opinion…still looks awesome!
In case you decide to make one of these, here is the correct order of gluing pieces together:
-glue the rings together
-sand the inside of the mug
-glue the bottom piece
-sand the outside
-glue the handle